Be prepared for the MMLE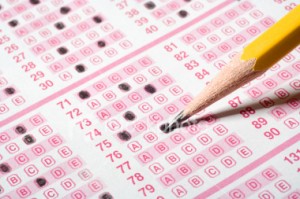 That's right, the MMLE or the Malaysian Medical Licensing Examination. We mentioned this in Hot news: Changes to Houseman postings and compulsory MQE for all? and it seems the MQE (or Medical Qualifying Examination) which previously only applied to graduates of unscheduled Universities will be replaced by the MMLE.
The difference this time is that the MMLE will apply to all graduates, whether studying locally or abroad. Like the USMLE, you'll need to pass the MMLE before you can begin your Housemanship.
We don't have the the full picture yet as we still have to await the official announcement, but what we've heard so far (we first broke the news in our Facebook page which you should go Like now if you haven't in order to be kept up to date if you are a Facebook user):
– the format will be similar to the USMLE
– in Year 5 the student (local and abroad) sits for the Theory paper
– after graduation, he/she sits for the clinical papers which comprises OSCEs (Objective Structured Clinical Examination)
– after passing, he/she can apply for Housemanship
– if the Cabinet passes it and the law is passed we are looking at 2015/2016 implementation
2015/2016 isn't too far away so we don't have long to prepare. There are a number of unanswered questions though.
1) Will it replace the final year examinations for the existing local medical schools or is it yet another examination graduates have to undergo?
2) How much will the examination cost? If it is on a wide scale, we hope it is cheaper than the RM30,000 candidates for the MQE have to fork out (so we are told)
3) What about post-graduates already working overseas? Would senior doctors have to sit for the MMLE (just like the USMLE) if they ever want to come back to practice in Malaysia?
We think there is no choice but to implement the MMLE if the nation is serious about maintaining medical standards. The floodgates may be further opened with the coming implementation of the AFTA and the MRA (for more information, see the DOBBS Doctors forum post ASEAN Mutual Recognition Arrangement on Medical Practitioners).
We predict there will be a burgeoning of training courses and tutorials for examinees, and in the Internet age perhaps local equivalents of sites like iMeducate.
Never has becoming a doctor harder and more expensive than ever!