Register as a CPD Provider
Compulsory CPD/CME is now upon doctors in Malaysia. When doctors apply in 2019 for the 2020 APC, they will be required to have at least 20 points of CME as determined by the MMC (see the CPD Grading Table)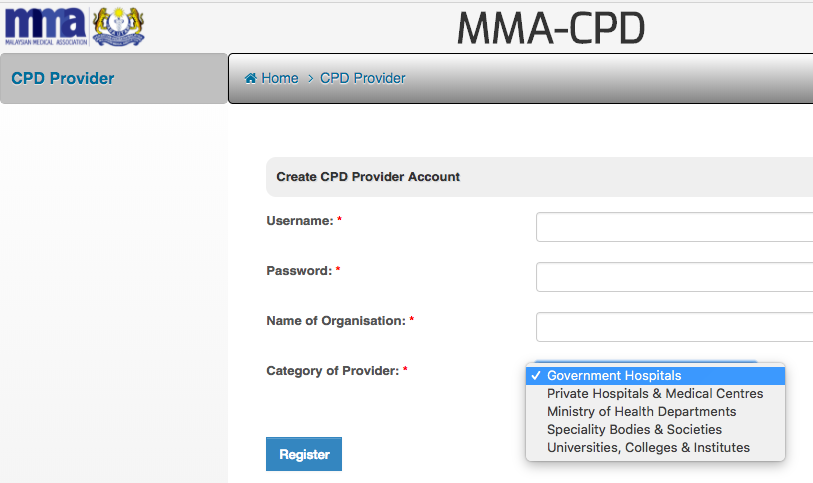 Under the MMA system, all Hospitals (private and public), Health departments, Professional Societies and Associations, University Colleges and Institutes can apply to be a recognised CPD Provider. Please note Pharma companies are not allowed to be CPD providers and need to go through a designated CPD provider if they wish to organise a CPD event or meeting.
This is a brief guide on how to register as a CPD Provider and basic steps thereafter
1) Register as a CPD Provider at http://registercpdprovider.mma.org.my
2) Complete the required details and then wait for approval. If you have any problems, please contact the MMA CPD secretariat ([email protected])
3) After approval, you can login to the CPD portal and then start using it
4) Providers can submit events via the portal for approval by the MMA CPD committee. You need to provide details of the event like programme, location, speaker, speaker CV, and tag the specialty. Please give at least 4 weeks for approval so do submit 4 weeks earlier than the event – this is a requirement of the MMA CPD Committee.
5) After approval, the CPD Provider / Event organisers can use the MMA Scanner app to scan attendance for attendees who are using the MMA CPD App. The scanning is via using an Android or iOS scanner app which uses the username and password of the approved CPD Provider.
You can download the scanner apps here:
Android MMA Scanner
iOS MMA Scanner
6) Attendance marking using the scanner app is instantaneous and can save organisers a lot of time. Attendees also get CPD points assigned instantly. However the scanning will be not be applicable AFTER the meeting is over.
7) Attendance can be marked "manually" by the CPD provider one by one or using the preferred Upload Excel sheet method. This "manual" marking can be done even AFTER the meeting is over.
8) Attendance marking by QR Code scanning or manual upload will not overlap as duplicates will be discounted (provided the NRIC is recorded properly in the manual attendance)
9) All attendance (scanned and manually uploaded) can be downloaded to a spreadsheet later. It is very handy this way for organisers to keep track of attendees for past meetings.
Detailed Guides
CPD Provider Registration and Event upload Guide
CPD Viewing and Marking Attendance
Comment