Career in Family Medicine
Pei Lin in our FB page asks
Hi I'm Cheong, an MO in periphery. I would like to further in family medicine. N would like to know further on d diploma course of family medicine and master programme. How should I prepare for these study?
Hi Pei Lin. Great to hear that you are interested in Primary Care or Family Medicine, and quite refreshing too since many young doctors seek a career in "glamourous specialties" and with the pressure on private GP practice (legislation, financial and more), primary care or family medicine in Malaysia is beginning to face pressure like in the US. We certainly hope we won't see a shortage of Primary care doctors in the future!
You could get formal training in Malaysia in this area. The following is adapted from an IMU document Career Pathways for Medical Graduates
Development of Family Medicine as a Specialty in Malaysia
Family Medicine trainees at present have the opportunity to select one of the following programmes to qualify as a Family Physician:
I. Masters of Family Medicine offered by local public universities.
II. The Conjoint MAFP/FRACGP (Member of Academy of Family Physician of Malaysia/Fellow of Royal Australian College of General Practitioners) Vocational Training Programme (VTP) run by the Academy of Family Physicians of Malaysia (AFPM) which was previously known as College of General Practitioners of Malaysia
I. Masters of Family Medicine in Public Universities
The Primary Care Department was first established in University Malaya (UM) in 1987 on the initiative of Council Members from the Malaysian College of General Practitioners. However its training in Master of Family Medicine was only recognised by the Ministry of Health when it conjoined with National University of Malaysia (Universiti Kebangsaan Malaysia, UKM). UKM started their postgraduate Family Medicine training programme in 1993 followed by Universiti Sains Malaysia (USM) in 1995. Currently three public universities offer this programme, i.e. UM, UKM and USM.
(The IMU paper is dated 2005 and I believe since then more local public universities offer a Masters in Family Medicine e.g. UPM – check out the Medical Schools Page and research for more)
It is a four-year structured programme and the candidates must pass Part 1, Part 2 and Part 3 examination. Part 1 is at the end of first year, Part 2 at the end of third year and Part 3 is at the end of fourth year. Part 1 is a theory paper based on questions from Obstetrics and Gynaecology, Internal Medicine and Paediatrics. Part 2 includes theory and clinical examination on all the above subjects including other specialities. On passing, candidates can proceed to conduct a research thesis project. The Part 3 examination consists of satisfactory completion of the research project, practice diaries, case summaries and exit viva.
All the examinations are conducted conjointly with the three universities. There is a component of continuous assessment which is incorporated into the final marks. On fulfilment of all the requirements at the end of the fourth year, the trainee will be conferred the postgraduate degree of Master of Medicine (Family Medicine) and qualify as a Family Medicine Specialist (FMS). They will then work in the public Health Clinics and be gazetted by the government. They will enjoy salaries comparable with other clinical specialists in government service. Following post-graduation, the Ministry of Health grants awards for further training in areas like geriatrics, adolescent medicine, etc.
The programmes for the three different universities differ slightly in their course curriculum delivery but all students undergo the same Parts 1-3 conjoint examination.
Subjects taught include the principles of Family Medicine, Internal Medicine, Obstetric & Gynaecology, Paediatrics, Emergency Medicine, Surgery, Psychiatry, Orthopaedics, Anaesthesiology, Pathology, Geriatrics, Dermatology, Radiology, Ophthalmology and ENT. The clinical skills taught will enable them to make accurate diagnosis and implement relevant management including performing minor surgical procedures.
In addition, students are taught managerial skills to manage family medicine at the community level and carry out suitable intervention.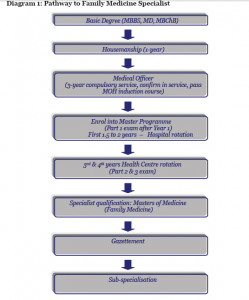 II. Postgraduate training in Family Medicine offered by the Academy of Family Physician of Malaysia (AFPM)
The AFPM is a professional medical organisation established initially as the College of GPs with the main aims of promoting and maintaining high standards of medical practice in Family Medicine among Malaysian general practitioners
In 1982, the AFPM collaborated with the Royal Australian College of General Practitioners (RACGP) to offer certification examinations leading to the joint Membership of Academy of Family Physicians of Malaysia (MAFP) and the Fellowship of Royal Australian College of General Practitioners (FRACGP). These examinations consist of two Parts (Parts 1 and 2) and are held once yearly in Malaysia with external examiners from the Australian College.
To prepare candidates for the examinations, the AFPM offers a structured course called The Vocational Training Programme in Family Practice. This is designed to upgrade standards of care in Family Practice and to increase awareness of global trend towards the provision of continuing and comprehensive care by the family doctor.
The duration of the programme is four years with exemption given if posting requirements are met; but a minimum duration of two years of Vocational Training Programme (VTP) is a must. The final two years of the programme comprise of 20 modules delivered by distance learning, tutorials and mentorship, weekend workshops on various topics to fulfil designated requirements. A logbook has to be maintained to show clinical experience.
The AFPM Website now lists a Diploma Course in Family Medicine After successful completion of the DFM, candidates can continue with the Advanced Training Programme for another two years, after which he/she should be ready and well prepared to sit for the internationally recognised Conjoint MAFP/FRACGP Examination. The AFPM career pathway is more suited to those already in GP practice (Public and Private sector) who wish to have formal accreditation of training in Family or Primary Care Medicine.
Dr. Rohaya in MPCN/FB clarifies The last VTP intake was in 2009. It has been replaced by DFM(2 yrs) followed by ATP (2 yrs) Both programmes have their own logbooks, compulsory workshops and exams. Only if you pass the ATP, will you be allowed to sit for the Conjoint MAFP/FRACGP Exam. There are other criteria to meet to sit for the exam; the most impt being: must have been in Family/ General Practice for at least 3 years in the last 5 years. Those who passed the MAFP/ FRACGP Exam are recognised as Specialists in Family Medicine (gazettement of 18 months)

That's just a summary of information I managed to glean. I am not a primary care doctor so I would ask colleagues in the Doctors forum, Dobbs for more information. I shall start a new thread on this topic.
Comment