Doctors' Blogroll updated
We've updated our Malaysia Doctors'Blogroll with the addition of Dharmaraj Karthikesan's Blog which is a well written collection of blog posts that reflects the life of a doctor in Malaysia. We stumbled across this post It's the doctor's fault in Facebook and posted it on our Facebook Page
If you have a blog but it's not in our Blogroll, please let us know and we'll be happy to add it. How do we follow so many doctor blogs and more? Here's the secret: we follow the active ones using their RSS feeds and the Feedly newsreader. By posting those we find interesting on our Facebook page it will garner more readership for you. Here's a snapshot of our RSS newsreader in action: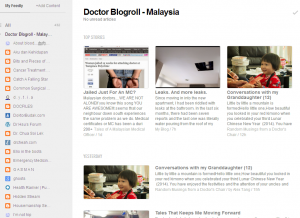 That's how we follow all your blogs and just about hundreds of other feeds out there!
If you haven't you should go Like and Follow our Facebook page – it will be the place to visit for the latest Malaysian medical news, interesting links and of course interesting medical blog posts by Malaysian doctors.
Comment