Attention all doctors – get the MMA CPD App Now!!
In accordance with the Medical Regulations 2017 which came into force 1 July 2017, all doctors need to secure a minimum number of CPD points in order to renew their APC.
At the moment, this will be enforced from 2019 (for application of the 2020 APC) which means you have to seriously collect your CPD points from 1 January 2018 onwards.
The Malaysian Medical Association has been given the task to organise the collection of CPD points which are set by the Malaysian Medical Council.
The MMA is providing this service free to all Malaysian doctors as part of it's corporate social responsibility and is providing a special CPD Events app by which you can keep track of your CPD points collected as well as provide a unique QR code by which event organisers can scan and record your attendance and instantly update your CPD points.
This app can be used by MMA members and non-members.
To download the MMA Event/CPD app, please visit http://onelink.to/mmaapp in your mobile's browser. To view/download the user guide, see https://1drv.ms/b/s!AtchTRgjMW1aitsAlGvh8xO4fFevIQ
MMA Members should login with their email and password using the same credentials as used for the MMA website. If you have forgotten your passsword tap on the Forgot password section or email [email protected] for help
For non-Members, you have to Sign up via the app but usage of the app is free even for non-members.
Screenshots: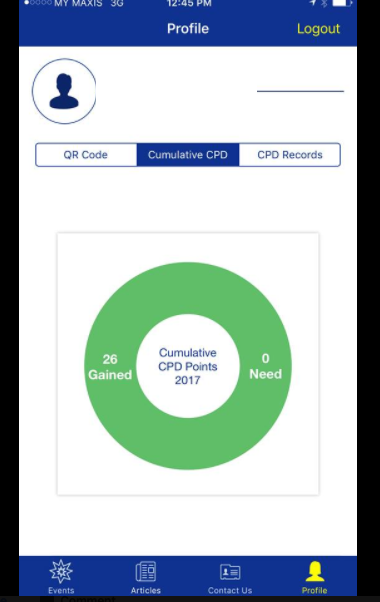 For discussion on registration and usage of the apps, doctors may use the DOBBS forum, Malaysia's pioneer, largest and most active online forum for medical doctors – on Facebook group, Telegram Supergroup and also web forums. See https://dobbs.my
An important note for all existing CPD Providers:
MMA will require all CPD Providers to re-register under the new system.
To register, use http://registercpdprovider.mma.org.my/
If anyone has problems or issues using the app or CPD system, please email [email protected]
Comment