Dialysis woes – a move towards CAPD?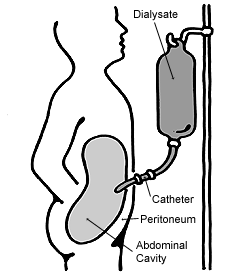 (source: Wikipedia : Peritoneal Dialysis )
The Star reports on Dialysis subsidy drying up
KUALA LUMPUR: Thousands of kidney patients are facing a tough time as the Health Ministry has not approved subsidies for haemodialysis treatment thus far this year. Some are reported to have waited for as long as three years for the nod.
The number of approvals for the RM600 monthly subsidy began to decrease in 2011, and became minimal from mid-2012.
NGO-run haemodialysis centres said they were told by the Health Minitry to source for funds elsewhere as it was focusing on new patients.
They also said that some patients had waited for the subsidy approval for as long as three years, instead of the usual one to three months.
We wonder that with Budget 2014 announcing Free CAPD kits to kidney patients there will be a trend of patients switching from Haemodialysis to CAPD (Continuous Ambulatory Peritoneal Dialysis)
KUALA LUMPUR: The government will provide free treatment kits, called the Continuous Ambulatory Peritoneal Dialysis (CAPD), costing RM19,000 per unit, to patients with end stage kidney failure to enable them to do the treatment at their own home.
Prime Minister Datuk Seri Najib Razak said the government realised the difficulty of patients with kidney failure in having to go to the haemodialysis centre for treatment three time a week and spent up to RM400 for each treatment.

The government would continue to provide quality health care and medical services for the people and was allocating RM22.1 billion for the health sector, he said when tabling the 2014 Budget in the Dewan Rakyat today.
The details are however not clear. Indeed as a nephrologist in our Doctors forum, Dobbs, said
I am still confused with '…Continuous Ambulatory Peritoneal Dialysis (CAPD) costing RM19,000 per unit.'
No idea what costs RM19K in CAPD.
Cost to govt is RM2.5K a month, with patients paying RM100.
PD cycler machine costs RM40K or thereabouts.
There are pros and cons of CAPD vs Haemodialysis but if subsidy cuts hit the bottom line, some patients may have no choice.
Recommended link: Medical Tribune: Peritoneal dialysis often overlooked, underused in Malaysia. Excerpt:
Speaking at the launch of the Freedom with Peritoneal Dialysis campaign, Dr. Ghazali Ahmad, head and national advisor, Nephrology Services, Ministry of Health (MOH), said many factors contribute to the low penetration rate of PD use in Malaysia, chief of which is the ubiquity of hemodialysis services and the lack of awareness of PD.

The campaign, spearheaded by the Malaysian Society of Nephrology (MSN) and Baxter Healthcare, seeks to educate Malaysians, especially patients, on kidney disease and the availability and viability of using PD as a treatment option. PD, compared with hemodialysis, offers patients more freedom, flexibility and mobility.

"In Hong Kong, almost 80 percent of dialysis patients utilize PD [compared to only 8 percent in Malaysia]. This allows them to move around and carry on with their daily routine without having to be bound to a chair for 4 to 6 hours at a time." Ghazali said the common arguments against the use of PD include the need for a clean room during the exchange (where the dialysate is drained from the catheter), high initial cost and infection risk.

The reason PD hasn't taken off in the country is partly due to the pervasiveness of campaigns publicizing hemodialysis and centers offering hemodialysis services to end-stage renal disease (ESRD) patients. However, there is also a possible economic factor contributing to the preference for hemodialysis, said Ghazali. He said the purchase of hemodialysis machines, training of handlers and maintenance require a significant amount of funds in the long run, which translates to more money for everyone in the service chain.
Comment