GP Conference and Scientific meeting
Attention GPs and Solo Practitioners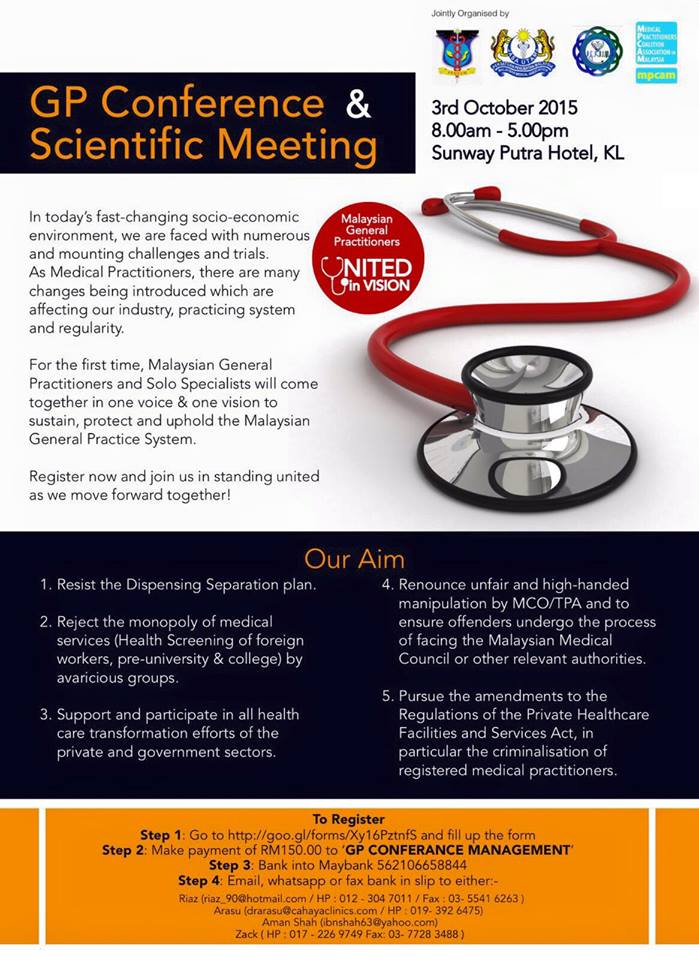 ABOUT THE CONFERENCE
Date : 3rd October 2015 .
Time : 8.00am till 5.00pm
Venue : Sunway Putra Hotel
1.JOINTLY ORGANISED BY FPMPAM( Federation of Private Medical Practitioners Association' Malaysia ) affiliated societies , MMA ( Malaysian Medical Association ) , MPCAM ( Medical Practitioners Coalition Association Malaysia ) , PERDIM ( Pertubuhan Doktor Islam Malaysia )
2.To preserve the uniquely evolved Malaysian General Practice System .
3.To unite GPs despite diversity and lead them to agreed goals in an ever changing socia-economic environment filled with covert challenges .
4.Resist the Dispensing Separation Plan.
5.Reject the monopoly of medical services ( Health Screening of Foreign Worker and Pre University or College ) by avaricious groups.
6.Support and participate in all health care transformation efforts of the private and government sectors .
7.Renounce unfair and high-handed manipulation by MCO/TPA and to ensure offenders undergo the process of facing the Malaysian Medical Council, Medical Practice Division of MOH and other relevant authorities.
8.Pursue the Amendments to the Regulations of the Private Healthcare Facilities & Services Act ( PHFSA ) especially with regards to criminalisation of registered medical practitioners .
Application form:
http://goo.gl/forms/Xy16PztnfS
For more details, doctors can also see this thread in the Dobbs forums
Doctors with a Facebook account can also join the Dobbs FB group exclusively for Malaysian doctors
Comment